At FieldCore, all of our processes are driven by a lean mindset, focused on driving value for our customers. We are constantly evaluating and re-evaluating our workflows and systems to be able to run service outages safely at an optimal cost and on time without any safety or quality issues.
Gemba walks (visit to actual work sites) have been the most important tool in our lean toolkit. We rely on these walks to embed with our customers and understand what is happening in the field. It was on one of these walks that we saw an obvious lack of standardization around service outage execution and discovered the need for a product like Live Outage for our field teams to use at site. It was a constant source of frustration for our workforce, as it required them to use a bevy of different physical workbooks and documentation from site to site to account for even minute differences in hardware. It was imperative that we did and did it right. In one fell swoop, we were going to replace decades of paper workbooks with digital resources.
Field resources are the lifeblood of our company. They are in the field every day, working with our customers, GE P&L and APM teams. When they succeed, we succeed. So having them in mind, we settled on the base concept which eventually evolved into Live Outage: a synchronized, interlinked, fully digital, mega-repository of data and information on every possible type of outage, with a single goal to simplify how Field resources get hold of, exchange, and communicate outage-related information while onsite executing the outage.
By simplifying our procedures and putting information in the hands of those doing the work, we are able to put appropriate focus on safety and quality while execution is not slowed. We were creating a change in the daily work, away from the way how things were always done. This is a massive shift  and a huge innovation, but it's also a huge undertaking. This is never easy, but it gets especially complicated when we consider the field work perspective.
Digitizing the documented processes, guidelines, tasks, activities, contacts, and other minutiae of service outage execution helped FieldCore kill several birds with a single stone:
We became a more sustainable firm, drastically reducing our overall paper utilization and waste, thus doing our part to mother nature.
We created a one-stop digital shop for outage-related matters for our workforce on site.
We transformed and sped up reporting of safety and quality issues, as well as stop-work processes.
Most importantly, we empowered our Field Teams and gave our customers a detailed, centralized view on outage progress.
Everything we were doing was new: from application development, network coverage and cybersecurity to packaging, logistics, and access. Focusing our attention on improving the lives of our Field workforce gave our work a clear direction, but incidentally, it also meant we couldn't draw from our previous experiences building and deploying enterprise resource planning (ERP) applications. We had to develop new ways of building new scalable and highly flexible applications: a challenge that Amazon Web Services (AWS) technologies helped us crush.
Infrastructure
We run service outages in more than 80 countries around the globe, so our Live Outage application had to be usable anywhere at any point in time. To handle this, the IT team had to rethink its security posture. How could we ensure that our software was accessible from anywhere but also tightly secure, even in remote locations? We can't spin up a new datacenter every time we work with a new customer in a new country. The answer was simple: investing in cloud services. But let me be clear: this was uncharted territory for us.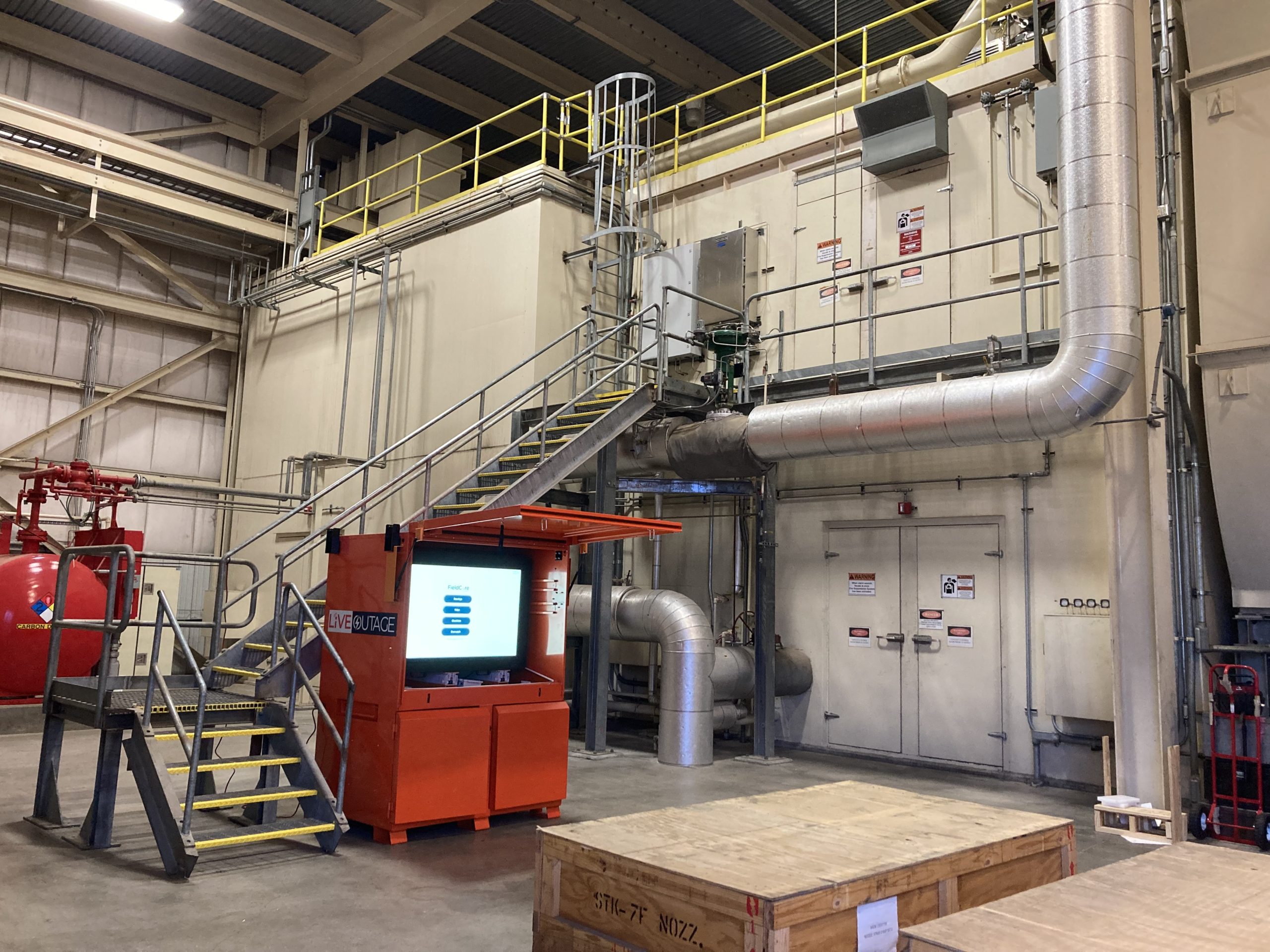 Adopting AWS technologies was a large task with an even larger learning curve, but there were advantages to the cloud ecosystem that made the growing pains worthwhile. Namely, the infinite ability to scale compute resources and the next-level security controls and rich features. Additionally, Live Outage was designed to adjust the quality of displayed media based on available bandwidth, automatically translate the checklists and other information to the local language. By relying on AWS for Live Outage and working with our partners at GE and Gas Power IT, we were able to create extremely secure and globally scalable infrastructure with 24/7 monitoring provided by AWS on top of our own telemetry.
"But what about network connectivity?" you might ask. Outages are frequently taking place in very remote areas that are historically difficult to provide with internet access.  Our Workforce  cannot share the customer network due to the cyber security. To make sure the constant connection, the IT team, in partnership with GE's Networking Team, designed and deployed a Peplink solution, which allowed simultaneous coverage from multiple providers over a scalable WIFI network.  Together, all of these techniques ensure uninterrupted access to service outage resources. Additionally, these techniques help our IT team run, correct and support the system while being fully remote.
Packaging and Logistics
If we look at the Live Outage kit as another tool to enable success during a service outage, it too has to be staged and set-up on-site as part of operational activities ahead of an outage. When we deployed Live Outage for the first time, we had 350-pound monitor kit and charging carts with multiple tablets and other parts arriving on site in various boxes and crates. Field and IT teams burned hours pulling all of these items out of their boxes, plugging them all into charging carts, and organizing them properly for easy access on-site. This was an unsustainable deployment model.
Our goal was to build a "cool box" for Live Outage that would allow our field teams to immediately stage it on-site. The IT team partnered with the Operations team to understand how existing logistics processes worked for other tools (we have 40 Tooling centers across world dispatching specific tools to site) and how to set up a similar process for Live Outage. Kaizen journey and continuous iterations have brought us where we are today – with an iconic Orange Live Outage Gang Box that holds all the IT Tools, is easy to package, deliver, and start up on-site without any specific know-how.  It has come to represent all the Lean Goodness that we're fostering with this effort.
Feedback
Field resources represent the core of our company. Our resources have deep hands-on experience with tools, technology, and processes on-site and always have suggestions or new ideas for improvements. But due to the nature of the work at site and stringent security requirements they usually cannot use laptops and phones at turbine deck. By bringing them into fold via the Live Outage system and allowing them to provide real-time feedback, we are bridging this gap and have enabled our Field resources to drive the application's continuous improvement loop. The honest and great feedback we kept receiving from our Field Teams throughout all stages of developing, testing, and deploying Live Outage to the sites is an ultimate proof, that looking at a challenge with a specific persona in mind is the best way of finding a solution which will resonate with your main target audience.
Live Outage also enables us to deliver total transparency and feedback to our customers during service outages. The application timestamps and documents suggestions, quality hold-points, observations, deviations, stop-works, and progress, so customers can monitor every aspect of the outage and streamline reviews. We've eliminated time-consuming back-and-forth conversations about vague details by putting everything in writing and on display for everyone to view. This has also allowed us to build our concept of STOP WORK into what we've always wanted it to be: such a signal should be a sign to focus on the safety of our personnel and the quality of our work, and now we have the tools to document what, where, and why these focuses should be in play.   
Conclusion: Teamwork
The development and deployment of Live Outage would not have been possible without the investment and focus of numerous resources from all across FieldCore, GE GAS Power and GE Corp teams. We embraced a wide variety of perspectives and embraced the collective nature of this process to achieve our dream end-result and deliver best outcome for our Field teams and customers. We not only had to build the right product for our Field Teams, but we also had to build it right — otherwise, it would not have taken off. I am very proud that no one on the IT team shied away from learning and embracing things in this process that were outside of their comfort zones and sometimes even outside of their usual work functions. Our teams rose up to the challenge that it set for itself and crushed it. The "can do" attitude of our team and the exemplary collaboration of its members amongst themselves and with our partners were critical components to the success of the Live Outage project, and I'm proud to say – they power the success of FieldCore every day.