Our History of
Field Engineering Services
FROM HUMBLE BEGINNINGS
It all started when Thomas Edison founded the Edison General Electric Company.
Thomas Edison opened his lab in Menlo Park, NJ, in 1876 to explore electrical devices. In 1879, Edison filed the patent for "an electric lamp with carbon filament," and by 1890 he established the Edison General Electric Company. In 1892, Edison combined his company with the Thomson-Houston Company to form the General Electric Company.
SCHENECTADY AND THE "TEST MEN"
The pioneers of field engineering got off to an impressive start.
In 1894, Edison formed the Construction Department in Schenectady, NY, to service contracts for electrical apparatus, supervising installation and start-up and providing Field Engineers (or Test Men as they were known) to troubleshoot equipment issues at customer sites. In 1903, Field Engineers installed the first of three Curtis steam turbines at Fisk Street Station in Chicago, later completing the first ever re-power by replacing the original turbine-generators with units providing more than twice the capacity. By 1906, field engineering went global, with the annual report noting, "We have sold a large amount of our apparatus in foreign countries."
FIELD ENGINEERS GO TO WAR
Field services supported many fronts of World War I and World War II.
During World War I, GE became a major defense contractor to the U.S. government, providing motors to propel battleships, turbo-generators to supply electricity to those motors, steam turbines for ship propulsion, and much more—all supported by Field Engineers. In World War II, Field Engineers were involved in virtually every aspect of the war effort, going above and beyond the call of duty.
"It was up to us to go anywhere with the right kind of talent and ingenuity needed by the operation and maintenance people of the armed service," recalled Field Engineer Bill Denny. "Our men were called to every continent and to every front to help keep bombers flying, install and repair ship propulsion systems, and see that radar would pick up enemy periscopes."
ENTERING THE GAS AGE
Field Engineers started the new era by bringing the first gas turbine to life.
In 1949, GE pioneered the use of natural gas as a fuel source for electricity. That year, the first gas turbine—the 3,500 KW GE MS3001—was installed by Field Engineers at the Oklahoma Gas & Electric Company's Belle Isle Station. It was the first to use the exhaust to preheat the boiler feed water for a steam station. The next year, Field Engineers installed the first single shaft, 3,600 rpm, double flow, reheat steam turbine-generator, rated 80,000 KW, at the Dunkirk, NY, station of Niagara Mohawk Power Company.
DECENTRALIZATION: FIELD ENGINEERING ON ITS OWN
Newly independent Installation and Service Engineering (I&SE) delivered revolutionary projects.
In 1955 GE reorganized, and Field Engineering was on its own for the first time under the name Installation & Service Engineering (I&SE). In 1962, the operation changed its name to GE Technical Services Company, or GETSCO. During this era, Field Engineers delivered several groundbreaking projects, including the first commercial nuclear power plant at Commonwealth Edison's Dresden I, installing the first "Package Power Plant" at South Carolina Electric and Gas Company and the predecessor to today's modern combined-cycle power plants at Wolverine Electric Corporation.
By the end of the 1950s, the Company changed its recruiting philosophy. Formerly, Field Engineers came from the apprentice program in manufacturing or the Test Program. I&SE began to hire Field Engineers on its own, targeting people with engineering degrees. "The Field Engineer had to be the customer's interface with the company," said C.C. "Tip" Thomas. "His primary job was to solve customer problems, and he didn't have to go through our department to do it."
THE ROARING 60S
Unstoppable expansion and surge of field engineering brought significant changes.
The 1960s were an unprecedented time of growth and expansion for field engineering, and the Project Engineering Operation was formed to help meet these demands. The group's systems engineering expertise—including design and construction of complete power plants—gave customers the option of choosing GE as a single source supplier.
To meet a continual need for Field Engineers and to address the cancellation of the Test Program, in 1966, the Company formed the Field Engineering Program. In 1974, the Field Engineering Training and Development Center was dedicated in Schenectady. In 1968, the Turbine product department established an Academy of Steam-Turbine Generator Constructors … the predecessor of today's Academy.
THE 1970S—A CHALLENGING TIME
In the period of postwar recession, the focus shifted to manufacturing.
A business slow-down in the early 1970s led to what the 1975 GE annual report called "the most severe postwar recession." During this time, I&SE focused on other value-added services to help customers get the most from their existing equipment, including steam turbine evaluation programs and equipment upgrades.
"Most engineers enjoy working with brand new equipment," said Tip Thomas. "But once we turned our attention to it, we found the market for maintenance was bigger than we thought."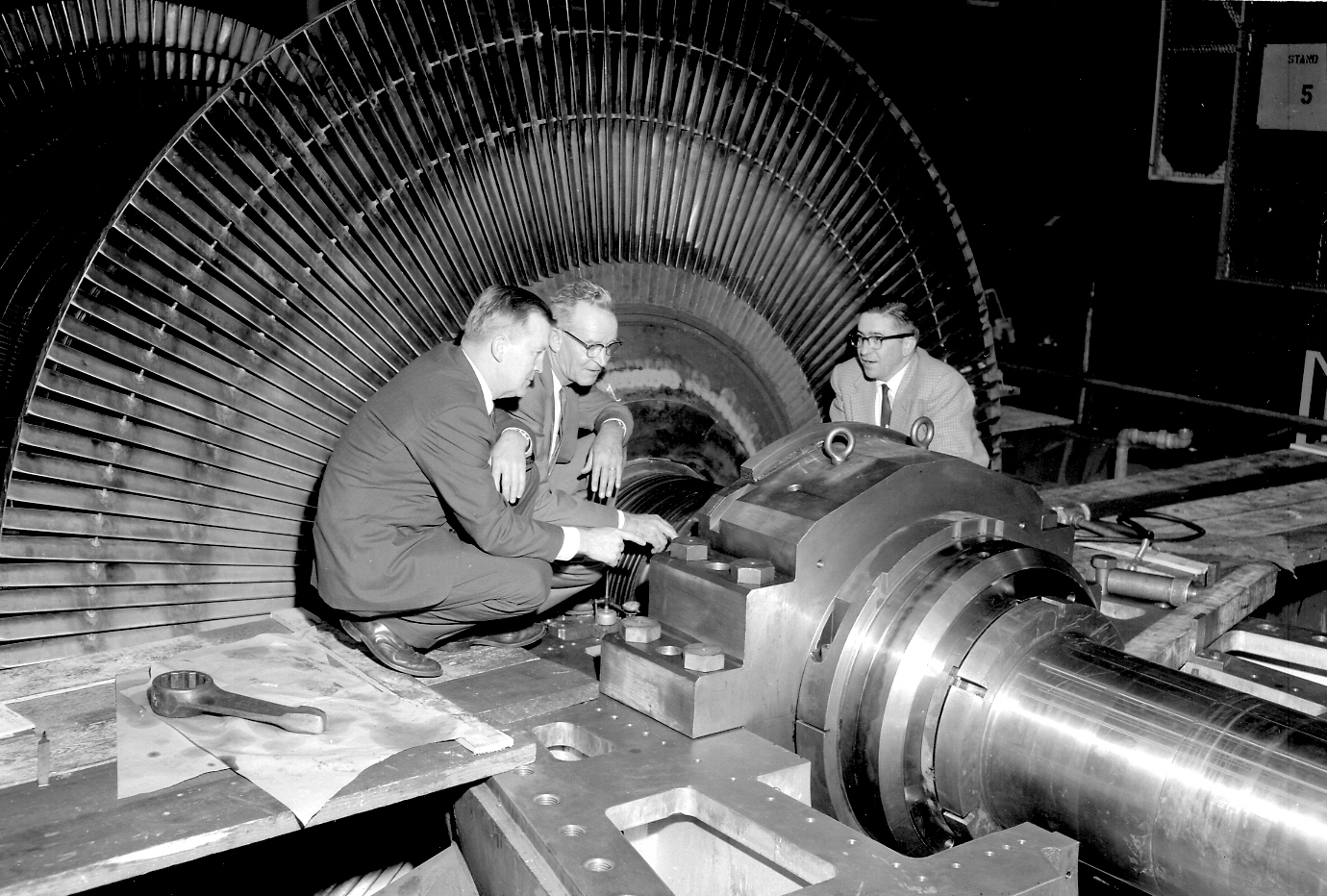 THE PACE OF CHANGE ACCELERATES
GE transformed into a turnkey contractor through stages of reorganization and expansion.
During the 1980s, the face of field engineering changed in many ways. The group—part of the I&SE organization for decades—reorganized several times, ultimately ending up as Power Generation Services. Beyond organization, the ranks of Field Engineers themselves changed, with Kaye Nordstrom joining as the Company's first female Field Engineer. The work also expanded beyond the turbine island to boilers, condensers, feedwater heaters, fans, and other balance of plant components.
In the 1980s, as a turnkey contractor, GE designed and constructed power plants for independent power producers, with field engineering taking the lead in project implementation. GE Field Engineers also began to service entire turbine generator fleets of some customers, including non-GE units built by both foreign and domestic suppliers.
TECHNOLOGICAL EVOLUTION
Innovations to Computer Technology Opened a World of Opportunities for Field Engineering
The 1990s were a period of technological evolution for the Field Engineer and the equipment they serviced, and this period saw the introduction of the laptop computer and modem, which greatly expanded Field Engineers' ability to serve their customers, including sharing preliminary Field Service Reports before leaving the customer's plant. As the Field Engineer was becoming more computer savvy, GE revolutionized the industry with the F-class gas turbine. The first 7FA, for 60 Hz service, broke records for output and efficiency at Florida Power & Light's Martin Station.
THE EVOLUTION CONTINUES
The founding of FieldCore brought the focus back on Field Engineering.
Today, Field Engineers continue to service the most technologically complex power generation equipment in the world, including the ground-breaking GE HA gas turbine, which set a Guinness World Record for the world's most efficient gas turbine in 2017. Also, in 2017, the organizational evolution of field engineering continued when on March 15, GE announced the creation of FieldCore, a new GE company. FieldCore was created to put the focus back on Field Engineers, supporting them in their continuing mission to serve customers. True to Edison's vision in 1894, FieldCore is designed to be the best place to work for people who love to work in the field.
FIELDCORE IS WORLD-CLASS EXECUTION
Today, we offer the design engineering expertise of GE and the experience of a true field expert.
Designed to be a field services powerhouse, FieldCore brought together leading field service experts from GE's Power Services business and Granite Services along with next-generation tools and optimized processes. By unifying these two businesses we created a single company with improved communication, collaboration and standardization for a consistent and optimized field service experience at every plant.
Today FieldCore stands for World-Class Execution. While the company maintains a strong regional presence, we take a global approach to providing expert craftspeople and Field Engineers for our customers. We strive to set the global standard for field service excellence, delivering services more quickly, reliably and safely than ever before.
FieldCore's field services teams showcase mastery across multiple industries, with capabilities to install, service, and upgrade gas, steam, and renewable energy turbines across the globe.
Delivering an All-Encompassing Set of Total Plant Solutions
By relying on the impressive mix of profound knowledge, unparallelled expertise and strong dedication to customer satisfaction, our experts showcase World-Class Execution in numerous capability areas from Gas to Aero, from Wind to Hydro, from Coal to Nuclear.